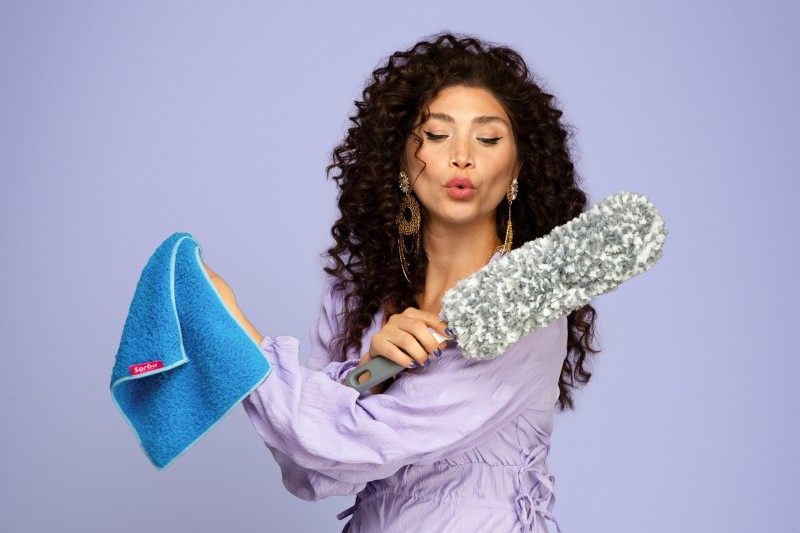 How do I clean my curtains?
Cleaning curtains: how do you do that? I love curtains because they truly dress up windows and instantly bring ambiance to your room. That's why I have curtains hanging everywhere, and they occasionally need a good wash. With my tips, your curtains will be back clean in no time.
Tip van Davina:
Need to freshen up the curtains? On a misty or frosty day in winter, open the windows wide to let them air out.
Let's get started
Step 1: Remove dust from the curtains by giving them a good shake
By first removing dust from the curtains, you prevent all that dust from ending up in your washing machine. Take the curtains off the rails and give them a good shake outside. You can also remove the curtain hooks if you like. Want to leave them in place? Then, put the top of the curtain in a pillowcase and tie it securely with an elastic band.
Step 2: Wash the curtains in the washing machine
Now it's time for the washing machine. Be sure to follow the washing instructions, as you don't want to end up with shrunken curtains! Only fill the washing machine up to one-third to prevent creasing.
Step 3: Clean the rails
While you wait for the washing machine, you can clean and lubricate the rails so that the curtains will roll smoothly again. Use a vacuum cleaner with a narrow attachment to suck up all the dust. You can also use the Dust Magnet to thoroughly dust and reach all the corners. Then, spray the rails and rolling wheels with silicone spray.
Step 4: Hang the curtains again
Once the spray has settled, and the curtains are dry, you can hang them back up. Time to enjoy fresh, clean curtains again!
More cleaning tips for dust
Dusting can be a dusty task. With our tips, you can make it a little more enjoyable and much easier. Don't forget those hidden spots!