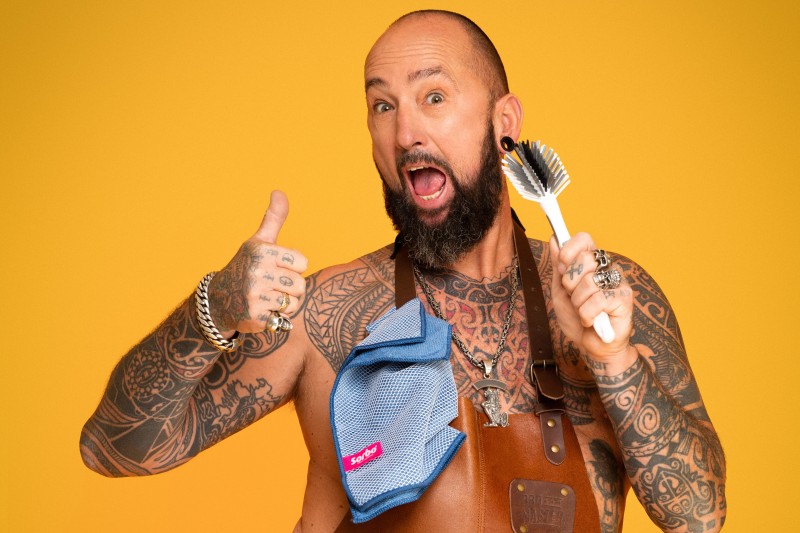 How do I clean my kitchen quickly and easily?
The kitchen is my favourite spot in the house (besides the barbecue). This is where I prepare all my famous meals. After such a cooking feast, the oven is covered in food scraps, grease splatters reach high up on the walls, and pans and pots are scattered everywhere. Fortunately, I quickly and easily clean the kitchen with this handy step-by-step plan.
Keith's Tip:
Clean pans before dirt can get stuck with the Dispensing Brush. Ideal for quick dishwashing as the cleaning agent is already in it!
Let's get started
 Step 1: Make way for cleaning!
Start by clearing all loose items. Do the last bit of dishwashing, put the dishes back in their place, and ensure you have an empty, tidy countertop.
Step 2: Begin with a thorough dusting
Dust becomes extra dirty and sticky when it gets wet, so let's start with dusting. Work from top to bottom and use the Dust Magnet to dust the top of the cabinets as well. If it's dusty and greasy, use the Kitchen Cleaner.
Step 3: Clean the countertop
Before cleaning the countertop itself, remove all items from the countertop. Shake all crumbs out of the toaster, descale the kettle and the coffee maker, and wipe the outside of the appliances with a lightly damp microfibre cloth. Then, tackle the countertop itself with a cleaner suitable for the material.
Step 4: Clean the stove and oven
We don't have time (or the desire) for a thorough cleaning, so start by cleaning the exterior and handles with a microfibre cloth. Clean the gas stove with a mixture of hot water and dishwashing liquid or use the Kitchen Cleaner for an even quicker job.
Step 5: Tackle the sink
The sink is a real breeding ground for bacteria and should be cleaned regularly. Use a mild cleaning agent, such as cleaning vinegar or baking soda. Many materials are sensitive to scratches, so let it sit for a while and then clean it with a microfibre cloth.
Step 6: Give the refrigerator a quick cleaning
We'll spend a minute per shelf: empty the shelf, check the expiration date of the products, wipe the shelf and the items with a soppy cloth of water and dishwashing liquid, then wipe the interior, rubber seals, and the door. Rinse with clean water, dry, and that's enough for the refrigerator.
Step 7: The finishing touches
We're almost done. Use a microfibre cloth to wipe down the trash bin. Then, it's finally time to clean the floor. Start by thoroughly vacuuming, and if you have some extra time, you can also mop it. Put clean kitchen towels and new sponges, and voilà, you're ready for the week.
More cleaning tips for the kitchen
If your kitchen needs a thorough cleaning, or if you have more time, check out these cleaning tips for the kitchen.