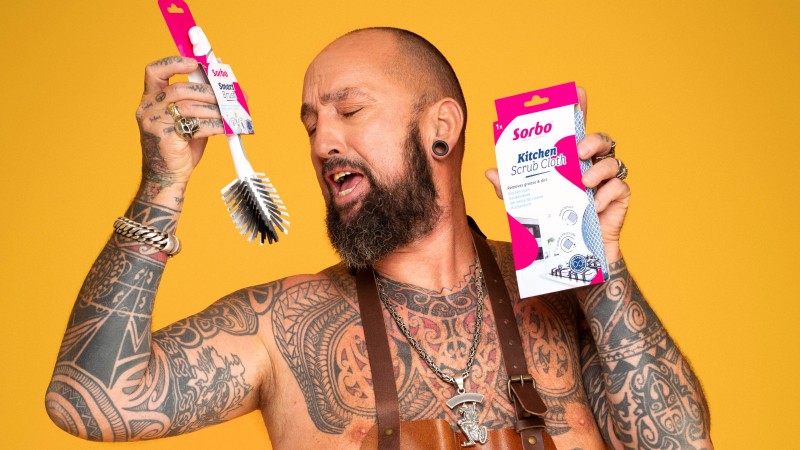 How do I clean my gas stove or hob?
Cleaning the gas stove or cooktop is one of the most unpleasant tasks in the kitchen, but with all those lingering grease and food residues, it's really necessary to do it regularly. After years of cooking in the kitchen, I've found a handy way to quickly and thoroughly clean the stove. Get it done quickly for the next cooking feast!
Keith's Tip:
Use the Cooking Care for stubborn residues! With the scratch-free scrub side and natural soap, you can easily wipe all the grease off your stove.
Let's get started
Step 1: Start by cleaning the burner grates
Remove the burner grates from the stove and place them in the dishwasher on a regular cycle. No dishwasher at home? Simply wash them with hot water and dishwashing liquid.
Step 2: Soak the gas burners in a mixture of hot water and dishwashing liquid
Detach the gas burners and soak them in this mixture for half an hour. You can also use baking soda but only for the burner caps (the black discs) as aluminium can become dull from soda. After the bath, clean them with a scratch-free sponge, such as the Kitchen Scrub Sponge.
Step 3: Clean the brown stains around the gas burners with baking soda
Make a paste with baking soda and let it sit for 2 minutes. Then scrub away the residue with a scratch-free scouring sponge.
Step 4: Use kitchen degreaser for the cooktop
Remove loose dirt with a piece of kitchen paper. Then spray the cooktop with Kitchen Cleaner and let it sit for a while. Next, take a slightly damp Kitchen Scrub Cloth and wipe the stove clean with the soft side. Remove stubborn residues with the scrub side. Use this combination also for the knobs and the cover plate.
Step 5: Clean the grates and burners
Go back to the grates and burners that have been soaking. If all goes well, you can now easily wipe off all the dirt and grease from the burners and grates. Use the scratch-free scouring sponge for stubborn residues. Let everything dry thoroughly and reassemble the stove. Done!
More kitchen cleaning tips
If your kitchen needs a thorough cleaning, or if you have more time, check out these cleaning tips for the kitchen.