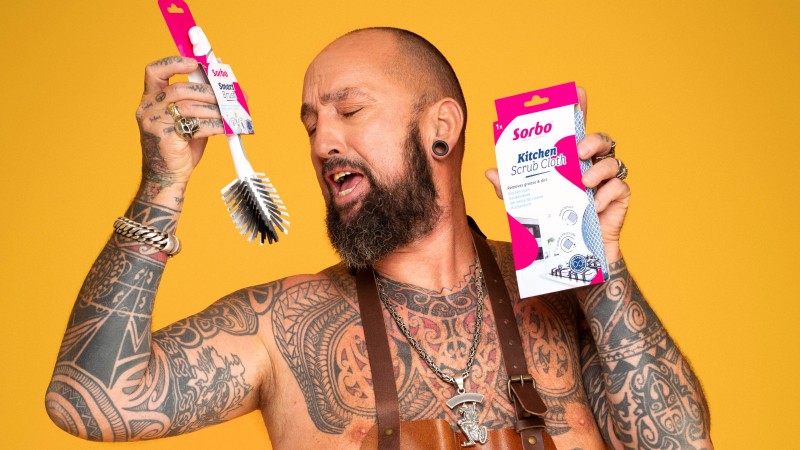 How do I clean my gas stove or hob?
Het gasfornuis of kookplaat schoonmaken is één van de vervelendste klusjes in de keuken, maar met al die rondslingerende vet- en etensrestjes is het echt wel nodig om dit geregeld te doen. Na al die jaren kokkerellen in de keuken heb ik een handig manier gevonden om het fornuis snel en grondig schoon te maken. Lekker snel klaar voor het volgende kookfestijn!
Tip van Keith:
Gebruik de Cooking Care voor hardnekkige restjes! Met de krasvrije scrubzijde en natuurlijke zeep veeg je ook zo al het vet van je fornuis.
Cleaning the gas stove or hob is one of the most annoying chores in the kitchen, but with all those grease and food leftovers lying around, it is really necessary to do this regularly. After all those years of cooking in the kitchen, I found a handy way to clean the stove quickly and properly. Quickly ready for the next cooking party!
A step-by-step plan for a clean gas stove
1.      Start by cleaning the pan supports. Remove the colossus from the stove and place it in the dishwasher on a normal program. No dishwasher in the house? Then wash them off with hot water and detergent.
2.      Time for the gas burners. Remove them from the stove and place them in a solution of hot water and washing-up liquid for half an hour. You can also use baking soda, but only for the burner caps (the black discs). The aluminum of the burner cups can turn dull when it comes into contact with soda.
3.      Remove the burners from the soapy water and clean them with a non-scratch sponge.
4.      You can tackle the brown spots around the gas burners with some baking soda. Let it work for two minutes and then scrub away the deposit with a non-scratch scouring pad.
5.      Remove loose dirt from the hob with a paper towel. Then spray the plate with a kitchen degreaser, such as our Kitchen Cleaner, and let it soak in for a while.
6.      Get our Kitchen Scrub Cloth and dampen it a little. You can easily wipe your stove clean with the soft side. Still stubborn leftovers? You can scrub it away with the scrub side of the cloth.
7.      Grab your bottle of Kitchen Cleaner and spray the rest of the stove, such as the knobs and cover. Wipe everything with a damp cloth.
8.      Back to the carriers and kernels that have been soaking. You should now be able to wipe off all the dirt and grease from the wicks and carriers. Stubborn dirt can be scraped off with a non-scratch scouring pad.
9.      Then allow everything to dry thoroughly before reassembling the cooker. Voilá, completely radiantly clean again for a new cooking party!
Induction or ceramic hob? The Cooking Care is your hero
Thanks to the lack of separate parts, a ceramic or induction hob is a lot easier to clean than a gas stove. You only have to spray the smooth surface with a kitchen degreaser, let it soak in for a while and you can wipe all the dirt off the plate with a damp microfiber cloth. Do test whether the degreaser does not damage the hob, of course.
Tired of stubborn leftovers? Then use our Cooking Care! This handy sponge has a scratch-free scrub side that allows you to scrape away all the grease. Thanks to the natural soap, you can also wipe all the grease off your stove. Just polish it with the soft side and your hob will shine again. Ideal if you have little time, but are very hungry!