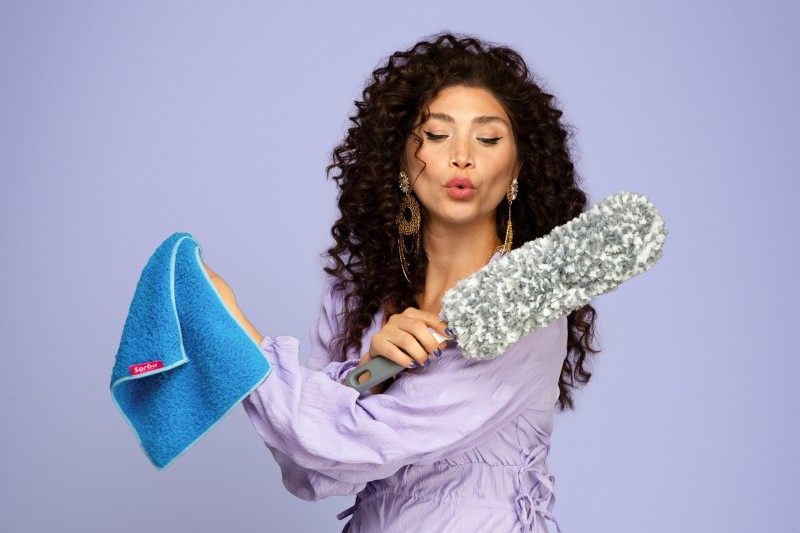 5 tips for dusting your home
Van de meest minimalistische inrichtingen tot huizen vol snuisterijen: overal vind je stof. Stof hoort er nu eenmaal bij, maar dat wil nog niet zeggen dat ik bij de pakken neer ga zitten. Met mijn handige tips veeg jij zo al het stof naar de vergetelheid.
Tip van Davina:
De extra lange microvezels van de Dust Catcher vangen naast stof ook kruimels en haren, helemaal handig!
From the most minimalistic interiors to houses full of trinkets: you will find dust everywhere. Dust is part of it, but that doesn't mean that I'm going to give up. With my handy tips you can sweep all the dust to oblivion.
Tip 1: Is it time for the big cleaning? Then always work from top to bottom and always start with fabrics. Even with the best dusters, dust sometimes swirls around. It would be a shame if that immediately falls on clean surfaces! So: start on top of the cupboards with fabrics and finish with a good vacuum cleaner for the floor.
Tip 2: Use a microfibre cloth, such as the Dust Catcher. Microfibers catch dust and hold it in the material until you shake it vigorously. With other materials you have a good chance that you will only move it. In addition to dust, the extra long fibers of the Dust Catcher also catch crumbs and hair, which is ideal of course!
Tip 3: Is there a lot of dust in the house? Dust dry first, then wet. If you immediately start working with a wet or damp cloth, the dust sticks together and you actually slide tufts of wet dust back and forth. That does not help!
Tip 4: In the fight against dust, minimalism is your friend: the less stuff, the faster you dust. Well, if I could follow this rule myself, I would be done a lot faster. Do you have a lot of stuff? Then don't just dust around the things, but also lift them up to dust underneath.
Tip 5: A cleaning agent is usually not necessary to remove dust, but sometimes the dust can be a bit sticky and does not come off the surface that easily. You often notice this in the kitchen, such as on the extractor hood. This is due to grease particles that float through the air and mix with the dust. To clean this, first mix a little detergent or vinegar with water. This way the dust will easily disappear.